Josh Liu – Coordinator
Hello! My name is Josh Liu and I currently serve on the pastoral staff at Lighthouse Bible Church. I am a student at The Master's Seminary (M.Div), and I oversee the children's and youth ministries at Lighthouse.
How I came to Lighthouse: God led me to Lighthouse during my first year at UCSD while I was checking out different churches and campus ministries. At Lighthouse's annual college luau, I heard Pastor Patrick preach the gospel. I was in awe at the preaching of God's Word and decided that I wanted to commit to this church that so exalts God and His Word.
Hobbies: watching movies, eating ice cream, playing tag and dodgeball.
One of my favorite verses is 2 Corinthians 12:9-10. I am reminded that despite trying circumstances, God is wholly sufficient, sovereignly working, and of surpassing worth.
Derek Dang
I am an engineer, working at Teradata.
Interesting Fact: I ate 7 servings of noodles in under 30 minutes to win a ramen challenge.
George Fang
I work at a structural engineering company. I love to play music and eat really yummy food. I am also Taiwanese.
Interesting Fact: I play more than 4 instruments.
Ashley Hur
I'm a second year at UCSD and I study Literature.
Interesting Fact: I always carry around Disney bandaids.
Hosanna Koo
Hi! I'm a teacher at The Cambridge School.
Interesting Fact: I really like to bake and craft and I can also lick my nose!
Alex Lee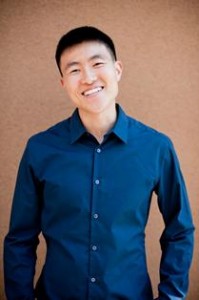 I first came to LBC as an unbelieving college freshman, only interested in what I could gain from being a part of a church body. I didn't come back after my first visit because a different church had free lunches, more hip music, and more collegians to hangout with. By God's grace, I was saved and when I came back to LBC with the new lens of a believer, I fell in deep appreciation of LBC's love and reverence for God, His Word, and His people.
As I learned more about God and His commandments, I sought out ways in which I could love the church and joined the Children's ministry. I quickly realized that my endeavor to serve the families of LBC was actually a tremendous blessing to me. I am so thankful for the partnership I have with the parents and their investment in me as we pass on God's greatness and glory to the next generation!