by Josh Liu
College Life had its annual luau at the beginning of October. It was a great time with all of our semester and quarter students back together! We welcomed a number of new students as well! It is exciting seeing all of these students begin or continue their college careers. This stage of life provides unique opportunities to explore, learn, and mature; lifelong friendships are often formed during this time; habits and decisions are made that often lead to a particular direction of life. It can also be a confusing time.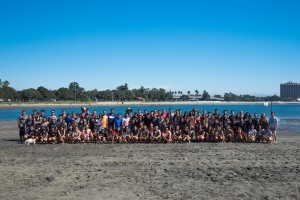 During the devotional, Pastor Patrick began with recounting Israel's lawlessness. Israel forsook God as their rightful King and did what was right in their own eyes (cf. Judges 21:25). Israel's rebellion against God's authority is illustrative of every person's rebellion against God. Every person, in his or her depraved nature, rebels against God (cf. Ps. 2:1-2; Rom. 1:18-32). Sinners deceive themselves by believing that they are the rulers of their own kingdoms, declaring what they believe is right or true. Opinions, preferences, and personal desires become "law." This self-inaugurating authority reveals itself in many ways. For example, a person may believe anger or premarital sex can be right simply because he or she feels that it is right, whereas God proclaims such acts as damnable sins (cf. Gal. 5:19-21). Or, abortion is declared right because of one's personal claim over the body, though God declares every life precious and the body to be used to glorify Him (cf. Gen. 9:6; 1 Cor. 6:20). God has ultimate authority over all of His creation, over your life (cf. Rom. 9:20-21). God has the authority to righteous judge sinners, and the authority to graciously forgive sinners (cf. James 4:12).
By God's grace, Jesus Christ came to redeem rebels into obedient servants (cf. Rom. 6:4ff; Titus 3:3-7). Those who repent of their sins and submit their lives to Christ through faith are liberated to truly live with Christ as Lord and King.
Here are some questions to examine your heart on what authority might be ruling you:
What can you not live without?
What would ultimately satisfy you?
What do you sacrifice for?
What do you spend most of your time, energy, thought, and money on?
Where do you find refuge, safety, comfort, escape, pleasure, or security?
Some common authorities (idols) may be a relationship, respect, material possession, accolade, comfort, control, etc.
Brad Bigney provided an insightful caution: good things can become god-things [idols] when we exchange the glory of God [God's authority]. Let us seek to live for and submit to God in all that we do.
Here are some principles to help you live with God as your authority:
Prayerfully examine your own heart through what Scripture teaches on the responses to the questions above.
Prayerfully study and practice Scripture before coming to a judgment or decision based on your own experiences, opinions, or preferences.
Prayerfully practice appropriate silence or flexibility where God's Word has not specifically spoken.
Prayerfully seek biblical counsel from godly mentors and leaders who will direct you back to the Word of God in all situations.
Pray through the truths, promises, and commands of Scripture in all situations.
God's Word is our final and absolute authority for life and godliness (cf. 2 Tim. 3:16-17; 2 Pet. 1:3). We must be saturated with God's Word in order to appropriately live under the beautiful lordship of Christ. And we must be immersed in God-centered prayers–approaching His throne of grace through prayer (cf. Heb. 4:16).